---
Welcome to the Official Web site for the Village of
Great Holland
www.Greatholland.com - an invaluable resource for those that Live, Work, Visit and Play or are simply interested in life within the fantastic Village which is Great Holland.
As with all good web sites, the content and layout will be forever changing as people submit ideas and make contributions.
The page Contact Us(left) offers the chance to leave feedback on the site and all thoughts will be considerered in great detail !
---
What's New ?
---
The Pub was saved - so what next?

As many will be aware, the Great Holland Pub was saved thanks to the generous support of investors, enthusiastic volunteers and the ongoing loyalty of its patrons.

Re-named The Ship Inn, work continues to not only ensure a thriving pub is maintained, but that it meets its aims of being a Community Hub, not just for Great Holland, but the wider area.

Information regarding the creation of a Village shop, the temporary / intervening provision of essential supplies and other exciting initiatives can always be requested from the GHCBS Committee, as can details of how you can volunteer.

In the mean time, arrangements are being made to orgainse the 2022 inaugrual Shareholders AMM (Annual Members Meeting), where ahead of that, information will be shared on how members can vote for, or indeed become part of the first elected GHCBS Committee.

Play your part and help shape the future of this fantsatic initiative.

The future's bright - the future's Ship Shape(d)

Great Holland becomes a Limited Company ....

Exciting news from those attempting to save Great Holland's Pub, The Manor (aka The Ship) - a Limited Company has been formed, in order that shares may be issued and interested parties have a chance to own part of the pub.

The new legal entity, known as a Community Benefit Society or CBS, is registered with the Financial Conduct Authority and will ensure that the Pub will always be run for the benefit of the community.

The Great Holland CBS (GHCBS) can also be used as a vehicle for other community ventures, who knows, perhaps it'll be the Bourneville or Port Sunlight of the future....

Interested in knowing more ? Click the GHCBS tab, top left in the menu bar.

Spring may be on its way ....

Well whether it's Spring or just the warm feelings one gets from reading Village Voice magazine, here's your chance to shake off those winter blues and catch up on all the exciting things people have been getting up to whilst shut up their homes.

Pop the kettle on, take off your mask and enjoy this digital copy of the February & March edition of Village Voice magazine.

With news of village life and the EXCITING progress in saving the village Pub, it's almost certain to get your daffodils sprouting.

Click on the image left, or this Link to enjoy.

It's Survey Time !

This is your chance to have a say over the future of the last remaining Pub in Great Holland.

All views are welcome and we are particularly keen to know if people would be interested in owning a share of a Pub (yes your very own pub !)

Feel free to share the above survey link

- it's not restricted to the Village, indeed previous Community Pubs have been backed by people who had historic or family connections or simply value Village life, so do share it far and wide.

Now is your chance to save an asset for the village - don't leave it to others.

The Manor Reborn

Great Holland's only pub, The Manor, is at risk of being lost forever!

Unaware to many of us, the pub has been on the market for over a year and with no takers, the current owners have put in a planning application to convert it to a residential property.

Following interest from residents, a small group has been formed to try and save the pub.

If YOU would be interested in playing a part and/or investing in a venture to keep the pub, please send your contact details to:
themanorreborn@outlook.com

or write to :

The Manor Reborn, Village Hall, Manor Road, Great Holland. CO13 0JT

NOW IS THE TIME TO ACT - don't wait until we've lost one of the last remaining assets of Great Holland.

News from the GHRA :

Radical new proposals by the government to change the planning regime have proved extremely controversial, including within the Conservative Party itself at local level.

Great Holland Residents Association has always retained membership of NORA, the National Organisation of Residents Associations and this is its draft response to the new proposals. They are worth reading and you can add your own comments. Click on the image, left.

Requested by the GHRA :

The Wildlife Trusts call for a new designation – Wildbelt – to allow nature's recovery.
Public are urged to 'rewild planning system' by responding to consultation.

Interested in learning more? Clink the link below.

https://www.wildlifetrusts.org/news/governments-planning-reforms-must-address-nature-and-climate-crisis

Beautiful Oak Steps and Ringing Gallery !!!!!

All Saints Church has had an amazing new addition, thanks to a generous donation and some fine craftmanship.

The new oak steps have opened up the West End to show off the stained glass window (and bell ringers!) to its best.

Well worth attending a service once the current period of isolation is at an end and the church re-opened.

The Great Holland Village Fete 2019

Were you there ?

If you're not sure - why not check out the photos!

Yes, another fantstic year - with weather to match. Click here or on the picture left or and enjoy (or revisit) the amazing day via the link to the icloud photo gallery.

Great Holland Community News

Facebook Page

Whether you are an active contributor, a Facebook voyeur or perhaps just curious to see what this page has to offer, why not visit the Great Holland Community News Facebook Page.

It has the lastest news, views, photos and contributions from Facebook subscribers on the goings-on in Great Holland.

Share your news immediately by clicking on the logo, left and join in the fun.

Great Holland Church & Village Fete 2018


Were you there ?


Did you enjoy the glorious weather, the laughter and the games ?

Well whether you did and want to see yourself preserved for prosterity or didn't and are regretting it .....

click here or on the picture left and soak up the warmth.

(NB - When the browser opens, click on a photo and review each in turn to see them in their full (un-cropped) glory

One Hundred Years of Suffrage

February 2018 marked the 100th anniversary of the Representation of the People Act being passed in Britain, giving some women (and working class men) the right to vote.

But did you know that Great Holland played an important part in the fight for Women's representation?

Hannah Jane Salisbury of Essex Records Office contacted Greatholland.com after seeing a number of photographs of Lilian Hicks and her daughter Amy (of Great Holland Hall) - both activists in the campaign.

Hannah has written a facinating and informative article on the subject - which is well worth a read.

Click on the Hicks Family photo (left) on on this Link.


Hannah has said further articles will follow (watch this space). Hannah has also been put in contact with the Great Holland Recorder, Liz Bruce to enable high quality copies to be taken of the photos we hold.

Ever wondered why the tower at All Saints Great Holland has bells, and yet the Tower at Walton on the Naze does not ?

Well you would be in good company.

Fortunately, our Tower Captain, Paul Bray, has worked tirelessly for you and has provided the attached article.

Information has been sourced from the internet , therefore Paul does add the usual caveats on internet sources. . . .

Either way - it's a facinating read ! Click Here

All Saints Church - Peal Attempt on
Morning of Saturday 19th August.



Ringing a Peal is a significant activity, involving eight ringers, ringing some 5000 changes in bell positions and as such takes around 3 hours to complete. 
The peal is being rung to mark two occasions:

1) To mark the hundredth anniversary of the dedication of All Saints church vestry.

Dedicated in August 1917 (whilst the First World War raged and the battle of Passchendaele was a month into its five month duration), the plaque mounted on the wall of the vestry boldly states "To the Glory of God and in complete confidence that victory will be given us. . . .etc "





2) To celebrate the wedding of two of our Great Holland bell ringers.

We will also be ringing after their wedding on the same day.



As an aside, if you know anyone interested in starting (or resuming) bell ringing, we would be delighted to hear from you. Just pop in before the Sunday service at All Saints.

Paul Bray
, Tower Captain, All Saints, Great Holland



Keen to know when the next stage of A120 or A12 road works are planned - and where ?

Then why not sign up to the Highways England news service and register your interest.

Click Here, add the postcode of interest - and as if by magic, it will reveal just how much delay and frustration you can look forward to.

Plan your journey, plan someone elses or just browse and feel fortunate that others have got it worse than you have....

The Great Holland Church & Village Fete 2016.

Did you miss this year's fete ?

Were you too were busy getting Engaged and jetting off to the Caribbean....

Well fret no more - click here for a photographic extravaganza.

and for those 'more committed' who attended, re-live the moment and see if your image was captured....

Small Church - Big Worship

At Great Holland Methodist Church.

A new inclusive, sensory aware, family service at Main Road, Great Holland.

Second Sunday of every month,
11am-12.00pm.

Interested ? Then click here for more information.

Who DoYou Think you Are ?

In an email akin to the searches on the TV programme, Patricia contacted Greatholland.com enquiring as to whether anyone may have information relating to her Great grandmother - who was a cook at a house in
Great Holland in 1891.

In a fascinating glimpse into the lives of yester-year, Patricia's letter is attached HERE for the detectives out there to set to work.

All information gratefully received !

Great Holland

Memories 1943 - 1953

Victor Spencer Wilson has kindly emailed in with a snippet of his memories growing up in Great Holland 1943 - 1953.

Click HERE to read his article -

Oh, and if YOU remember not welcoming Victor to play on the village green in the 1940's, you may wish to send in your apology. . . . !

Great Holland Circa 1914

Alan Birch generously contacted Villages Voice's Linda O'Reilly, following the chance discovery of photos taken in Great Holland during the Great War.

Alan believes they may relate to the Durham Light Infantry - However if you know more information, please contact Linda (details in Village Voice) who will be delighted to pass the information on to Alan.

The photos, some of which have been published in the December / Jan 2014 edition of Village voice, are available on Flickr to view, download and enjoy.

Click HERE or on the photo to discover the entire set.

Hicks Family History

Some amazing photos have been donated showing a glimpse back into the history of Great Holland and the influential Hicks family.

Gillian Disley and her husband have had the photos in their family for generations, however was keen that the images, dating back to the 1830's, now be made available for everyone to enjoy.

The full story is available by clicking the link HERE, where Gillian kindly provided the wonderful story which accompanies these pictures.
The photos can be viewed by clicking on the photo, left.

With croquet on the front lawn of the hall : expect to see Roger and Margaret re-enacting the scene in the summer months.

Sincere thanks go out to Gillian for her generous donation and for taking the time to pass on the heritage to future generations.

HAS ARRIVED !

Yes - It's Here !

You can now order Superfast Broadband from your Internet Service Provider (ISP). It will cost a little more, however in return, you could receive download speeds of up to
40 Meg !

What should you do ?

1) Start by calling your current ISP and ask for a price to deliver you Superfast Broadband.

2) Make sure they offer you an FTTC service (Fibre To The Cabinet)

3) Go on line and check the price of other suppliers to make sure you're getting the best deal / package.

4) Place the order

5) They'll need to come and change the BT box inside your home for one with a new face panel (typically 2 weeks from ordering)

6) Hold on to your seat and prepare for Super Fast Internet speeds.

Thanks go out to to the keen efforts of GHRA, residents, TDC / F&WTC, Douglas Carswell M.P. and BT Open Reach in the lobbying for
Grt Holland's inclusion in the service.

Manor Farm - For Sale

£1,500.

At least, it was in 1929 !

Roger Frere has obtained a copy of this facinating sale catalogue from 1929, detailing the sale of Manor Farm, its contents and four cottages.

At Roger's suggestion, it has been added to the History page of the website - however to make life even easier - you can click the image, left.

2012 - What a Year.

A fantastic Jubilee

A record collection of Olympic Gold medals

And now, thanks to the extraordinary generosity of Mr & Mrs Nicoll of Lauren Group, the Village Hall has it's Cupola reinstated !

More on this story to follow - but Click Here for more photo's recording this historic renovation.

Jubilicous !

Were YOU at the Great Holland Social Event of the year ?
Celebrating 60 Years of the Coronation, Roger & Margaret Frere kindly gave over their barn for a fantastic party.

Click on the picture, left - If you're not in one of the photos, odds are you'll know someone who is ! !

A 2012 update on John's Story !

Charles Hickling emailed to add more information to the Photo provided by John.
. . . . click the picture, left, to read more !

A chance visit to the website from a boy-hood resident led to John Lawrence emailing in his memories of Great Holland.

Click on the link (left) and discover whether you too are distantly related to his clan !

Handy with a Brush ?

The Village Hall Commity is always keen to hear from anyone willing to volunteer their time & skills to help keep one of the Village assets stay in good condition.

Please contact Nicky or Sue

Village Hall, Manor Rd.

Linda has genrously offered to share her latest find in her quest for historic Gt Holland Post Cards.
Click on the picture left to see both the front and the message written on the back : posted in August 1925 !

The culmination of 1000's of hours work and the results of the Village Survey many of you completed.


Full details of the Great Holland Village Design Statement & Parish Plan launch are available on the new "Your Notice Board" page (left)

A 'soft copy' is also available in PDF format by clicking on the image, left - (with the added benefit of being able to 'zoom in' on the smaller fonted sections.)

Detectives Required !

Fiona Kean recently contacted greatholland.com 11,500 miles away at the Tauranga Heritage Museum, New Zealand.

Fiona is researching the history of the Baker Family, who emigrated from Great Holland Hall (the farm at the end of Church Lane) in the early 1900's.

Having provided a wealth of information and documents relating to the late 1800's / early 1900's, Fiona would be extremely grateful if anyone could add some colour to the family, their lives in Great Holland or indeed the people whose lives where touched by them.

Click the image, left, for a fascinating insight to life at the turn of the 19th century and the start of an International Detective Story.

Take a look at June & Eddie Forest's photos - in the Photo Album (left)

Snow Arrives in Great Holland - Click left for a selection of shots (or go into the Photo Album via the left menu.)

Click on each of the pics for a larger image.

Better Still - Click HERE to see them on the Great Holland Flickr website - in glorious 'surround vision' (well - larger at any rate ! )


Do you have your own to share ? - send them in via the contact page below.

Missed the wonderful Harvest Display at
All Saints ?

Select the Photo Album tab (left) and re-live the colour.

The historic Walton Lifeboat was relaunched Sat. 5th September following extensive renovation.

TV's Griff Rhys Jones was guest of honour and as tradition demands, the Boat was blessed by the
Rector of Great Holland, Peter Coley.

David Masters ably undertook his role as Coxswain. Full photos will follow - in the meantime, click on the Photo Album tab in the Main Menu (left) to view a taster.

Further details on the project can be found at the website
James Stevens No14 .

Firm buns and tasty tarts . . . . .





. . . were available to buy at Saturday's Home Made hour.


This monthly favourite was a must for all those who loved picking up home made cooking at ridiculously great value AND it was all for a good cause : All Saints Church.

As always, the fun started at 10am prompt - but those keen to get their hands on those buns, were prompt - as once again there was a queue !

Why not join the excitement and come along to the next cake fest -
1st Saturday of every month - Village Hall.
See the A-board on Main road for details.

Fantastic New Links to :

Local Weather

,

Tide Times

,

Local News

,

Beach Hut Rental

,


Tourist Information

Or use the 'Useful Links' button in the menu (left)
---
A fantastic web resource for residents and visitors alike !
Great Expectations for Great Holland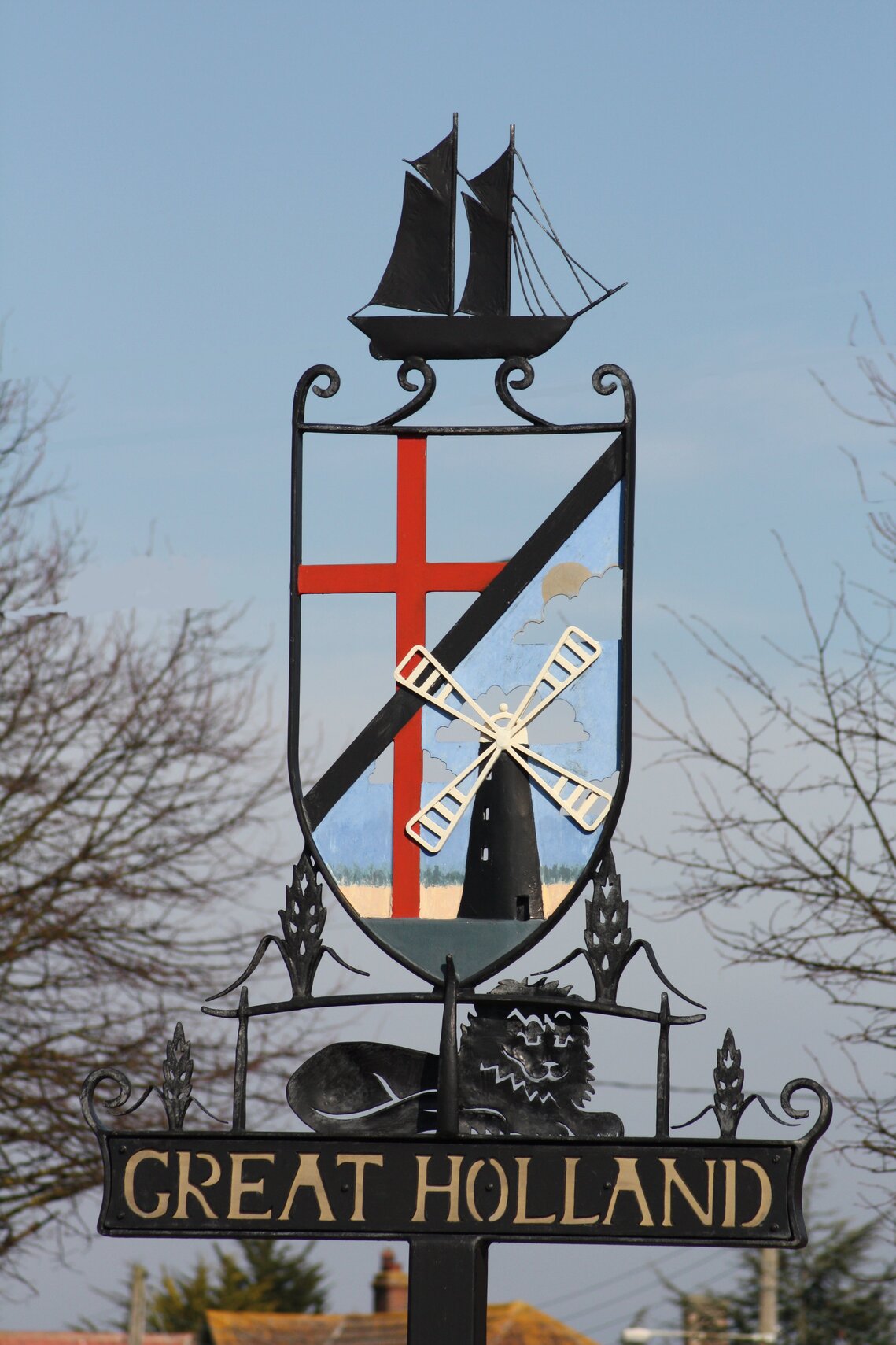 ---
---
---